Dan and the Country Cats
"Wine, Women and Song"
Breast Cancer Benefit Block Party
Mill Valley, CA ::: 1 August 2001
by Kathy & Ken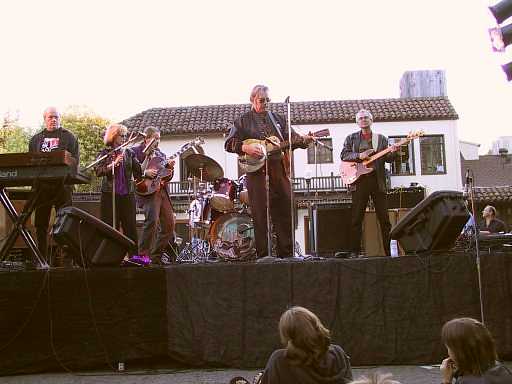 Dan at center stage, with (L-R) Austin DeLone, Susan Rabin and Paul
Robinson. Sorry, we didn't get the names of the drummer or bassist.
They played with Austin's band earlier in the evening.



Susan Rabin and Paul Robinson. The color-coordination was just
a coincidence.



Behind Dan is the building that once housed the (in)famous Old
Mill Tavern, home of the Monday Night Wild Turkey Jug Band.
(They are known today as the Christmas Jug Band.)



"Bright Lights, Big City"?



A little dobro-pickin' during "Peach Pickin' Time".